Professor Wörner, A Member of the German Academy of Science, Visited and Lectured at the USTC
2014-05-06
---
  With the invitation from Prof. Yilin Xiao of our university, Prof. Dr. Gerhard Wörner from the University of Göttingen (Germany), a member of the German Academy of Science, visited USTC in the period of April 7 to 18. During his stay in our university, besides academic activities, he had a series of lectures (up to 6 hours) for the graduate students of the School of Earth and Space Sciences.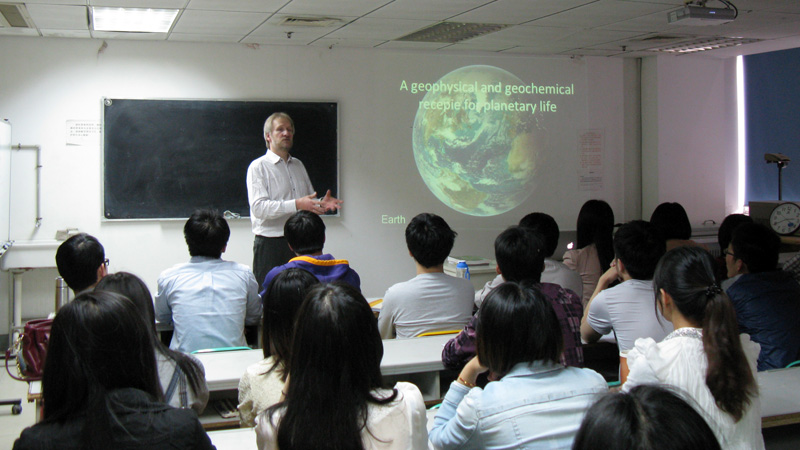 Professor Gerhard Wörner is giving lecture for students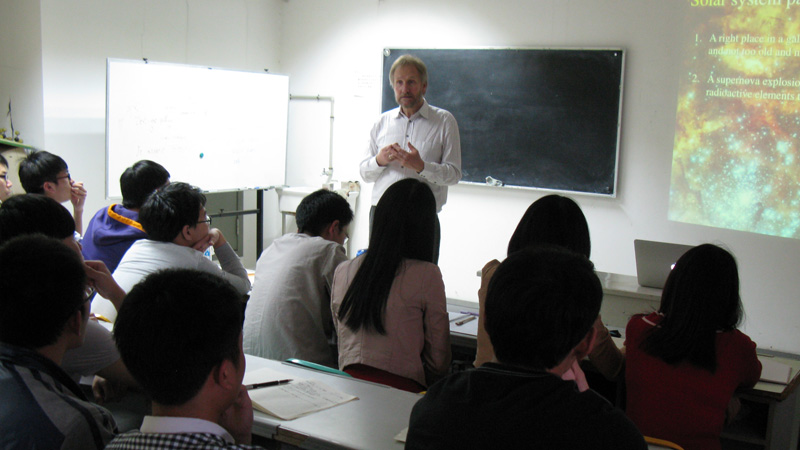 Professor Gerhard Wörner is explaining the evolution of the solar system
  The series of lectures involved many important geological issues:
  (1)  The basic astronomic and geological conditions for life on planets
  (2)  The origin and evolution of continents, oceans and the atmosphere; the evidence for the core-mantle differentiation, the formation of the Moon.
  (3) The evolution of the early Earth's atmosphere and global CO2 cycling.
  (4) The composition and geochemical evolution of the continental crust.
  Prof. Wörner is being recognized for his outstanding research in using element and isotope geochemistry to solve geological problems in various tectonic settings. His research has focused on physical volcanology, the evolution of magmatic systems – from the crystals to the orogenic scale, magmatism in continental rifts and at convergent plate boundaries, and the interaction between tectonic and magmatic processes in orogenic belts. With his outstanding scientific achievements, he has received many awards, including the Goldschmidt Prize in 1988, the Leibnitz Prize in 1997 (the highest research prize in Germany), and the Distinguished Geologic Career Award of the Geological Society of America (GSA) in 2013. He was selected as Member of the German Academy of Science to Göttingen in 2003.
  As a guest professor of the USTC, Dr. Wörner has visited our university at least once each year since 2009. These visits have not only greatly advanced the collaboration between the USTC and the University of Göttingen, but have also been important to establish exchange relations for students from our university visiting Göttingen for their PhD research.
  Reported by Haiyang Liu and Ye Tian (Graduate students)
001.jpg